A New Office, A New Country!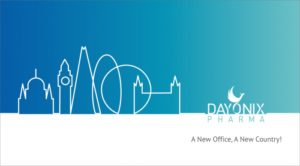 Dear Valued Customers, Suppliers and Partners in Business,
We're excited to inform you that DAYONIX PHARMA will be relocating officially as of July 1st, 2019 to a suitably advanced infrastructure in London, UK.
Following a few years of significant expansion and bringing the knowledge and expertise into the company, we have decided to grow our business from a private limited company (LTD) to a public limited company (PLC), and to offer our shares on stock exchanges in UK.
Obviously, we did thorough research before making this decision and we came up with the conclusion that the UK market offers many opportunities and fits perfectly to our strategy of becoming the number one in food supplements industry.
Our new address is: Tower 42, 25 Old Broad Street, London, EC2N1HN, UK.
Our new Telephone number is: +44 207877 0728
Our email address will remain the same: info@dayonixpharma.com .
Our last day of operations at our current address will be June 28th, 2019. Please send all deliveries and correspondence to our new business address as of July 1st, 2019. If you have any further questions regarding the relocation, please feel free to contact us at info@Dayonixpharma.com .